Press
Autonomous a2z, Series B 'Challenge Field' with more than 1000
페이지 정보
작성자
Autonomous a2z
조회
876
작성일

2022-06-09
본문
Autonomous a2z, an autonomous driving car solution startup, enters a Series B investment round. Although it is before the start of the full-scale round, domestic and foreign institutional investors are continuing to request investment. It is expected to reach more than 100 billion won, more than double the amount of investment that was originally planned.
At a press conference held at Conrad Seoul in Yeouido on the 9th, Autonomous a2z announced a blueprint for becoming a global autonomous driving company and plans to attract subsequent investments, including the concept of an unmanned mobility platform equipped with level 4 autonomous driving technology, and establishment of corporations in the United States and Singapore.
This investment, which will be worth more than 100 billion won, is expected to be put into production plants for unmanned autonomous vehicles. The factory to be established in Korea aims to mass-produce more than 30,000 units. The production plant is planning to start designing in 2023, test operation in 2026, and mass-produce it in 2027.
At the same time, the investment is also considering M&A of autonomous vehicle-related startups such as Lidar, as well as strengthening pipelines such as building a lidar infrastructure system and smart city, as well as autonomous driving car solutions, which are core businesses.
Song Young-min, executive vice president of Autonomous a2z, explained, "We plan to start a full-scale round from July, and as discussions are ongoing with existing shareholders and other institutional investors, the payment is expected to be completed by the end of October or November." Did
The Series A round, which was completed in September last year, was closed at 16 billion won.
Kakao Mobility participated as a strategic investor (SI), and Korea Investment Partners, KB Investment, K& Investment Partners, Enlight Ventures, and Kakao Investment were financial investors (FI).

Autonomous a2z, in its 4th year of establishment, started as an autonomous driving solution company. Four people who have been in charge of advanced development of autonomous vehicles for more than 10 years as researchers at Hyundai Motors have teamed up to start a business. In order to commercialize autonomous vehicles, it is essential to build internal software. Autonomous a2z has self-developed an autonomous driving solution that contains recognition, judgment, and control solution algorithms..
 
Autonomous driving cars require cooperation with the government due to regulatory issues.
autonomous a2z has been conducting demonstration projects focusing on B2G. It has been developing autonomous driving performance by driving more than 200,000 km in 10 cities across the country, including Daegu, Sejong, Pangyo, and Seosan. Currently, it is the only country in Korea that has conducted demonstration projects nationwide, ranging from compact cars to passenger cars, buses, and trucks. autonomous a2z's driving distance ranks fifth after Waymo, Cruise, Zook and Pony.

The company is also generating sales, which is unusual for a company related to autonomous driving. In the case of autonomous driving solutions, the cumulative sales volume from 2019 to 2021 is 4.2 billion won. Since last year, the revenue pipeline has changed. The a2z Lidar infrastructure system, which was first launched last year, recorded the first sales of 400 million won. The a2z smart city project is expected to cost 7 billion won this year.
 
Han Ji-hyeong, CEO of a2z, said, "Since last year, we have started a project to develop an unmanned mobility platform equipped with level 4 autonomous driving technology. We are aiming for a pilot test in 2025 and mass production in 2027."

a2z unveiled the concept of two types of mobility platforms under development on the same day. These include 'Project S (Small Delivery Platform)', an unmanned delivery platform for logistics purposes, and 'Project M (Mid Shuttle Platform)', an unmanned shuttle platform for public transportation. 'Project M' is the size of a medium-sized van and can accommodate up to 12 people, and the driving range on a single charge is 240 km.

The new platform will be equipped with the autonomous driving technology 'a2z smart city solution' developed independently based on lidar, radar, and camera sensor fusion overlay. a2z applied this solution and received permission to operate on public roads for 25 autonomous vehicles, the largest number in Korea.

Next year, autonomous a2z will set up a branch in the US and Singapore to challenge the global autonomous driving market. Previously, a2z registered the autonomous driving guideline evaluation report (VSSA) with the U.S. National Highway Traffic Safety Administration (NHTSA) as the 27th in the world and the first in Korea. Through this, the plan is to proceed with the acquisition of an autonomous driving license from the California Department of Transportation (DMV) this year. From next year, it plans to demonstrate public roads in California, a battleground for autonomous driving.
 
Han Ji-hyeong, CEO of autonomous a2z, said, "We selected the United States and Singapore as the first stage for our global expansion. We will become a platform leading company."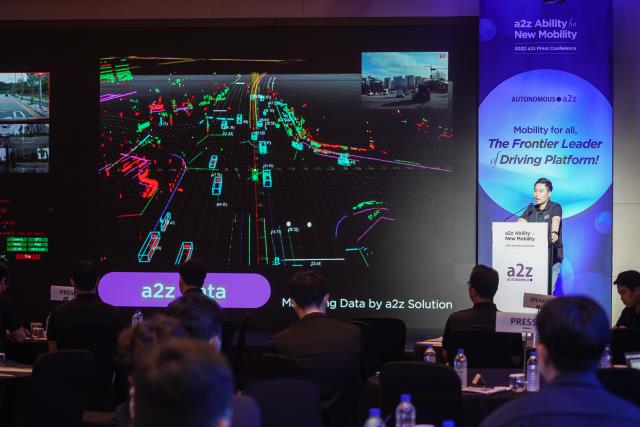 더벨 이종혜 기자