Press
Autonomous a2z, the first Korean company to be listed in the U.S. National Road and Traffic Safety Administration's autonomous driving safety evaluation
페이지 정보
작성자
Autonomous a2z
조회
797
작성일

2022-05-05
본문
<AUTONOMOUS a2z VSSA>
Autonomous a2z, an autonomous driving startup, is the first domestic company to be registered with the National Highway Traffic Safety Administration (NHTSA) 'Voluntary Safety Self-Assessment (VSSA)'. It is the 27th in the world and the first in Korea. The company plans to enter the U.S. market based on the self-driving special purpose vehicle (PBV), which will be mass-produced in 2027, as well as the modified electric vehicle-based robotaxi that is being demonstrated.
The U.S. government recommends that companies developing level 3 to 5 autonomous driving technology perform VSSA on their own. NHTSA sets 12 items for autonomous vehicle development, and companies write VSSA accordingly. Momental, Apple, Waymo, Zoox, Uber, Lyft, Aurora, BMW, Ford and others have listed VSSA.
Autonomous a2z wrote VSSA based on 'Autonomous Vehicle (AV) 3.0' and 'AV 4.0' announced by NHTSA. △System stability △Operational Design Scope (ODD) △Object and Event Detection Response (OEDR) △Response Method △Verification Method △Human Machine Interface (HMI) △Vehicle Cybersecurity △Cash Tolerance △ADS Behavior After Collision △Data Recording △Consumer Education and training, etc.
Autonomous a2z introduced that VSSA recorded 116,639 miles (187,712 km) on autonomous driving roads in Korea as of last year and operates 21 autonomous vehicles. He explained that all eight types of vehicles have implemented autonomous driving with one software (SW) algorithm.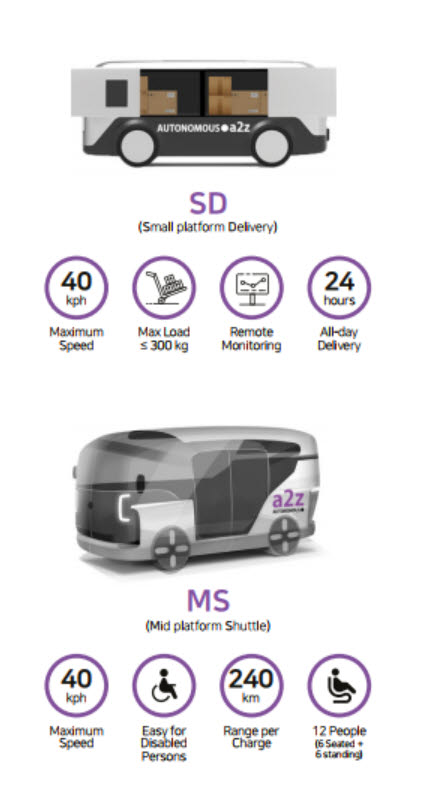 <오토노머스에이투지가 개발 중인 자율주행차 플랫폼>
The company has a solution that implements autonomous driving based on lidar, radar and camera. In addition to implementing the autonomous driving service by applying the solution to mass-produced vehicles, a project to design and mass-produce autonomous vehicles is underway. It will develop a 3m small delivery platform 'SM' and a 5m medium shuttle platform 'MD'. With a maximum speed of 40 km/h, it is operated only in a specific area, not on a general road.
We also paid attention to driving safety and cyber security. He designed the vehicle to drive according to a specific ODD. It accurately recognizes the situation where the HMI is out of the ODD and notifies the reserve driver when there is a risk of a collision. In the event of a collision, the central control center is configured to check and respond to the situation in real time.
For cyber security, the main control PC and the communication control PC are separated. A physical security hardware (HW) is installed between the two control PCs to protect the communication control PC from cyber attacks. Security HW (Security Switch) has obtained 'CCEAL 4+' certification from the National Intelligence Service (NIS) and the International Information Assurance Association (NIAP). The self-developed autonomous driving platform is being developed in cooperation with KT for a security design that removes even the security HW.
Han Ji-hyeong, CEO of Autonomous a2z, said, "Autonomous driving has the potential to dramatically change the future, but it can only be realized by maintaining two key points of safety and sustainability. We will continue to increase the benefits we can bring."
전자신문 박진형기자 jin@etnews.com