Press
I turned the 'racing wheel' for games, A 'real car' moved 25 km away [Site]
페이지 정보
작성자
Autonomous a2z
조회
714
작성일

2022-05-26
본문
A view from sitting on a remote-controlled driving device in the office of Autonomous a2z, an autonomous driving company.
Remote control driving
When there is a problem with autonomous driving vehicles
applying 'remote control driving' for safety
5G application delay time only 0.02 seconds
Fast reaction speed, similar to actual driving
Autonomous driving cars that do not require a driver are carrying passengers and driving fast.
A vehicle that had been driving well while maintaining its lane suddenly stopped.  It judged that autonomous driving was impossible as vehicles on the road got tangled due to a contact accident.
How should autonomousdriving cars without even the steering wheel get out of the road?
The method is 'remote control driving'.
On the morning of the 24th, I visited Autonomous a2z located in Anyang, Gyeonggi-do to directly experience remote control driving technology.
A company that develops autonomous driving technology. Currently, it operates the largest number of autonomous vehicles in Korea. Of the 209 licensed autonomous vehicles in Korea, 21 are in operation. This is the largest number among domestic companies.
"Remote control generally refers to technology that puts robots in dangerous and extreme environments that are difficult for humans to work directly," said Yu Min-sang, managing director of the Vehicle Platform Development Office.
This company is the only one in Korea. In foreign countries, Google's subsidiary Waymo and autonomous delivery robot maker Neuro, are introducing remote control driving.
On one side of the office, I saw a remote-controlled driving device that looked like something you would see in an arcade.
The steering wheel and pedals were attached, and the road image was floating on the monitor screen. This is the video sent by the camera on the vehicle.  The vehicle was waiting for departure from the autonomous vehicle test city located in Hwaseong, Gyeonggi-do.
It is about 25 km away from the remote control unit.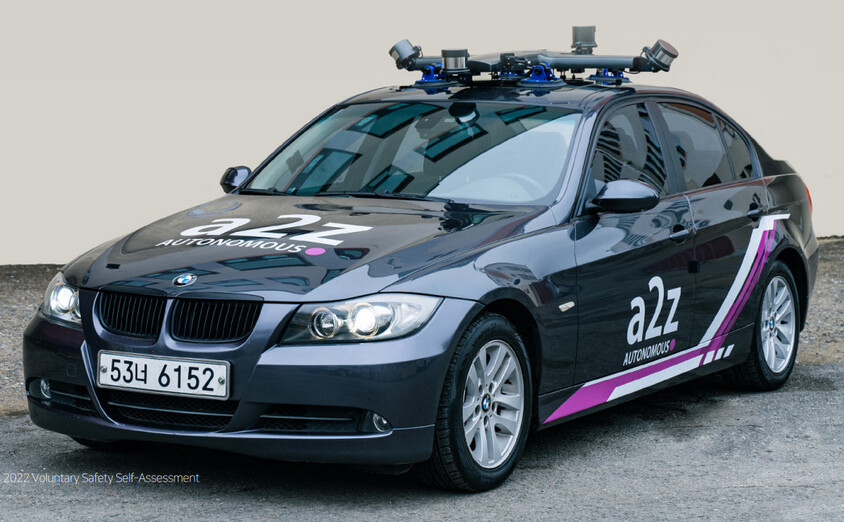 Autonomous a2z's autonomous driving vehicle. Provided by Autonomous a2z
When I sat down on the device and pressed the accelerator pedal, the vehicle slowly moved forward.
It is a course that runs about 3 km between straight and curved sections. After passing the straight road, I carefully turned the steering wheel on the narrow curved road I met. The vehicle also turned smoothly. In terms of reaction speed, there was no significant difference from actual driving. 
5G mobile communication technology is applied, so the delay time is only 0.02 seconds.
However, it took some time to learn the sensitivity of the accelerator and brake pedals. This is because only visual information is transmitted through the monitor. In particular, at low speeds, it was difficult to detect minute speed changes with the monitor screen alone.
"At first, I thought about how to give driving feeling through vibration or sound, but I thought it would be more efficient to put in trained employees," said Yu.
The company plans to manufacture and sell vehicles with autonomous driving technology. Automobile manufacturers around the world are already developing their own autonomous driving technology. I saw that there was no chance of winning if you didn't build your own vehicle.
When a transport company purchases an autonomous vehicle to transport passengers and cargo, a remote control device is also provided. If a problem occurs during transportation, an employee waiting at the control center controls the vehicle with a remote control.
The company plans to receive remote control driving permits as well as renewing temporary autonomous driving licenses from the Ministry of Land, Infrastructure and Transport in June. Currently, remote control driving is only possible in the autonomous driving test city set up within the Korea Automobile Safety Research Institute.
"We plan to apply remote control driving technology to 21 autonomous vehicles and test them in real road environments, not test roads," said Minsang Yu, managing director.
한겨레 안태호 기자 eco@hani.co.kr